Prize zones
There are ten price zones in Vestland. The zones apply to travel by Skyss buses, Bergen Light Rail, some boat connections and trains between Bergen and Voss.
Vestland County have a total of ten price zones. The zones applies to travel by
Skyss buses in Vestland
Bergen Light Rail
Boats to Askøy (Kleppestø - Strandkaien)
Boat to Nordhordland (Knarvik - Frekhaug - Bergen)
Florabassenget (applies to passengers from 1 July)

Florø-Askrova-Stavang-Svanøy (Florabassenget south)
Florø-Barekstad-Batalden-Fanøy-Rognaldsvåg-Kinn (Florabassenget north and west) 

Kaupanger kai-Frønningen (applies to passengers from 1 July)
Trains between Bergen and Voss.
Single tickets apply to Skyss' mode of transport. For information about Skyss tickets on express buses, go here.
How it works
Within each zone, there will be one price for the whole zone. An individual ticket will be valid for 90 minutes within one zone and for 30 minutes extra for each extra zone you pay for.
If you plan to cross a zone boundary, the ticket will cost more depending on how many boundaries you cross. The maximum price is for four zones.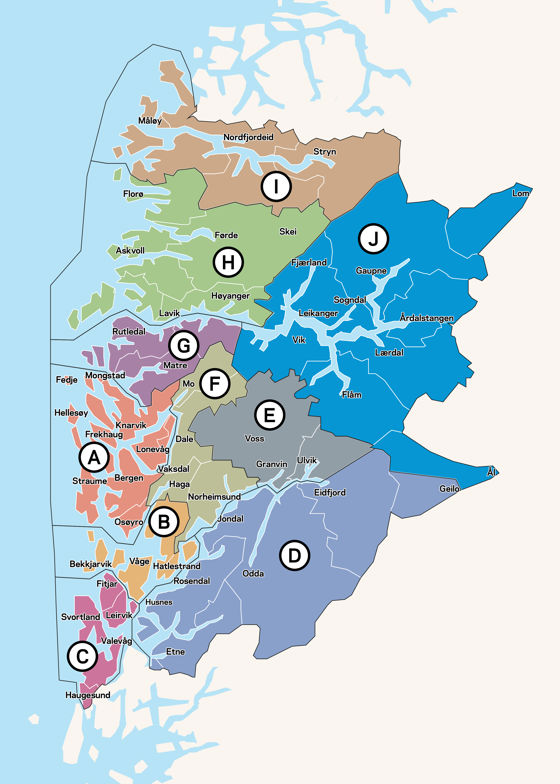 If you are traveling by boats that are not included in the zones, seperate prices apply: